The Batik Art of Mary Edna Fraser, retrospective of a renowned environmental artist
By
Cecelia Dailey
An internationally renowned artist,
Mary Edna Fraser's
architectural installations in silk have graced galleries, museums, and public buildings throughout the United States―creating wonder, awe, and an awareness of the environment. Using fabric, wax, and dye, Fraser has transformed the techniques of batik from its ancient origins and forged new visions of our planet from the sky to the ocean floor. These images not only astonish and allure; they remind of us of our place in the world and our responsibility to respect and care for it.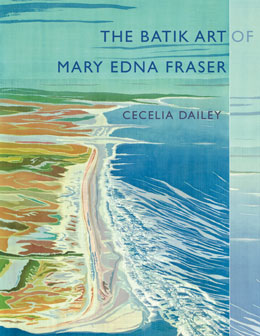 "Mary Edna Fraser encouraged me, her assistant for a decade, to write a book about her process for students and collectors. This text is a guide to the breadth of techniques and styles that have brought her critical acclaim creating large-scale batiks on silk. Her mission is what has driven her success, as she reaches the public with her vibrant scenes of aerial landscapes, and illustrates the research of experts such as coastal geologist Dr. Orrin H. Pilkey," author Cecelia Dailey says. Fraser is inspired "to educate and inform us about what is happening to our barrier islands all over the world," says Joanna White, a fellow fiber artist. "Fraser's ability to evolve and absorb new influences and technology is part of her genius," according to Marjory Wentworth, South Carolina's Poet Laureate. Fraser's art invites us to see with new eyes the horizons that surround us, and to see ourselves in our inextricable connection with the land, the seas, the skies, the earth, as we are woven together in the fabric of existence. Both history and guide to the challenging techniques of this form,
The Batik Art of Edna Fraser
is a full-color introduction to Fraser's perceptions of glaciers, icebergs, coastlines, atmospheres, mountains, and rivers that grace our globe, and gives an intimate look at the artist at work and the philosophies that guide her singular imagination as well. "Mary Edna's inspiration garnered from other historical artists is refreshing and enlightening. The descriptions of her batik process are clear and informative and can take the budding batik artist into greater competency," Joanna White says. "Fraser's influential and distinctive artworks are spotlighted in this inspiring volume tracing the artist's development through art and textile history, as well as giving us a glimpse into the complex ancient techniques that produce them. It's a journey across local and global locations that demand our attention in today's world," curator Dorothy Moye says.
About:
Cecelia Dailey
is an artist, writer, and photographer involved in public projects related to environmental education and archival processes. She's also a botanist who performs floral surveys and habitat assessments in coastal South Carolina. She documented
Mary Edna Fraser's work
for ten years, managed her studio and business, and installed many national exhibitions. Dailey has a B.F.A. in filmmaking and photography and B.A. in philosophy from Virginia Commonweatlh University. She's a master's student in biology at The Citadel, set to graduate in December 2020.
---
The Batik Art of Mary Edna Fraser, a book published by USC Press – ©2019
You can purchase a signed copy of the book directly from the author or artist
Book also available on: Bookshop
---