Back on Bonaire: Rediscovering Divers Paradise as a Father
By
Andrew Jalbert ©-2020
---
Published by Neap Tide Press
With its protected nearshore reef system, gem-clear seas, and sweeping conservation efforts, Bonaire has earned the title it boasts on its license plates: Diver's Paradise.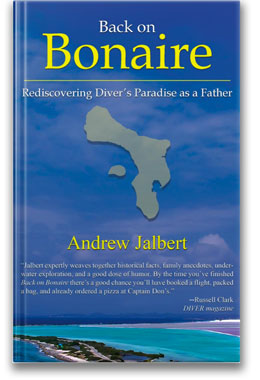 For Andrew Jalbert, who first visited in the early 1990s, there was a draw to the island that was hard to shake. He returned regularly over the next twenty-five years in a variety of capacities: as a scuba instructor, a sun-starved vacationer, and a writer/photographer. What he hadn't expected at 43 years old, however, was to return as a father.
Back on Bonaire
is the story of stitching together two very different lives: one of airports, scuba tanks, article assignments and underwater cameras; the other of car seats, kindergarten, skinned knees and the boundless curiosity of a child. Jalbert merges both worlds in an enjoyable, funny and at times touching account of introducing his son to his beloved Bonaire. Along the way the reader gets a look at the island's cultural and natural history, some of its people and the importance of preserving the ecology of Bonaire – for his son and future generations.
---
Book available now on:
---
Reviews
---
"Andrew Jalbert's Back on Bonaire: Rediscovering Divers Paradise as a Father is a highly enjoyable read. Part biography, part guide to Bonaire, and part insight into fatherhood, Jalbert expertly weaves together historical facts, family anecdotes, underwater exploration, and a good dose of humor. The book isn't just for divers, or fathers, or travelers. It's for people who enjoy learning about the experiences of others, and seeing the world through their eyes. By the time you've finished Back on Bonaire there's a good chance you'll have booked a flight, packed a bag, and already ordered a pizza at Captain Don's. One thing is for sure, you would have thoroughly enjoyed Andrew Jalbert's story and will be eager to write your own." –Russell Clark
DIVER magazine
---
"Not only is Back on Bonaire: Rediscovering Diver's Paradise as a Father a gem of frank, confessional – and often hilarious – revelations, it's a tour guide for Bonaire, topside and underwater, with added history, profiles of local notables and a healthy dose of environmental awareness spawned by sheer love of the island, its people, its waters and its creatures. More importantly, it's a book we can relate to. It's a story about real love: for family, shared experiences and special places." –Renée Duncan
Managing editor, Undersea and Hyperbaric Medicine Journal
---
"I absolutely love Jalbert's writing. He uses the same words all the rest of us do, but he puts them together in entertaining (and even painlessly educational) ways. Give yourself some time when you begin Back on Bonaire: Rediscovering Diver's Paradise as a Father because once you read the first line you won't want to put it down." –Dee Scarr
Women Divers Hall of Fame, author of Touch the Sea and The Gentle Sea
---
"Jalbert has managed the impossible in his book, Back on Bonaire: Rediscovering Diver's Paradise as a Father. He has defined that indefinable "essence" of Bonaire which keeps visitors returning year after year. Each chapter takes you on a (re)discovery of the island that we all love so much–its famous locations, quirky personalities, colorful history, and unique culture are revealed as each page is turned. A must-read for any Bonaire-lover." –Susan Davis
The Bonaire Insider
---